Automated client retention for mortgage brokers
Stop trail book drop off and grow your loan book by proactively repricing & refinancing your existing clients to a lower rate, automatically with a single click.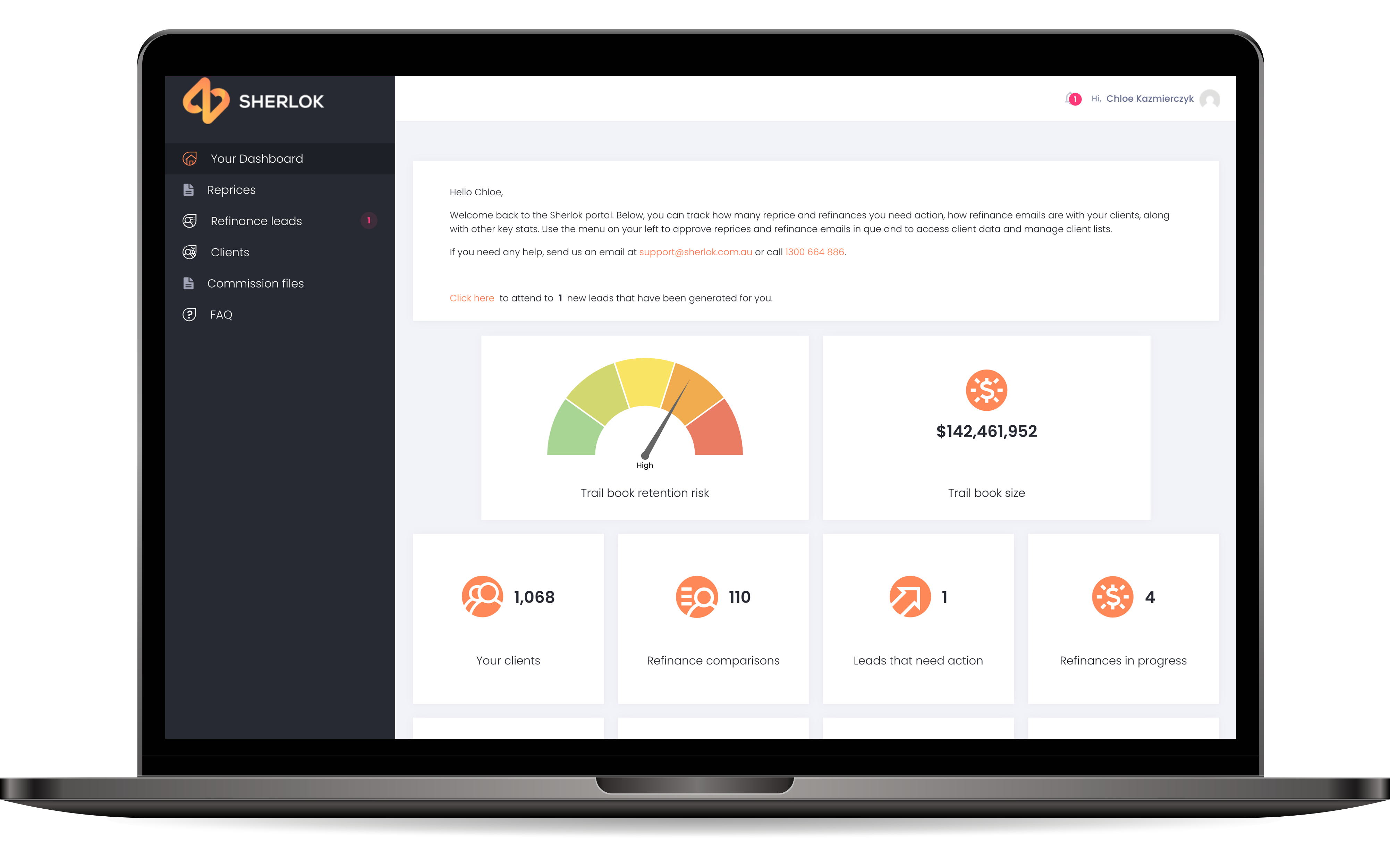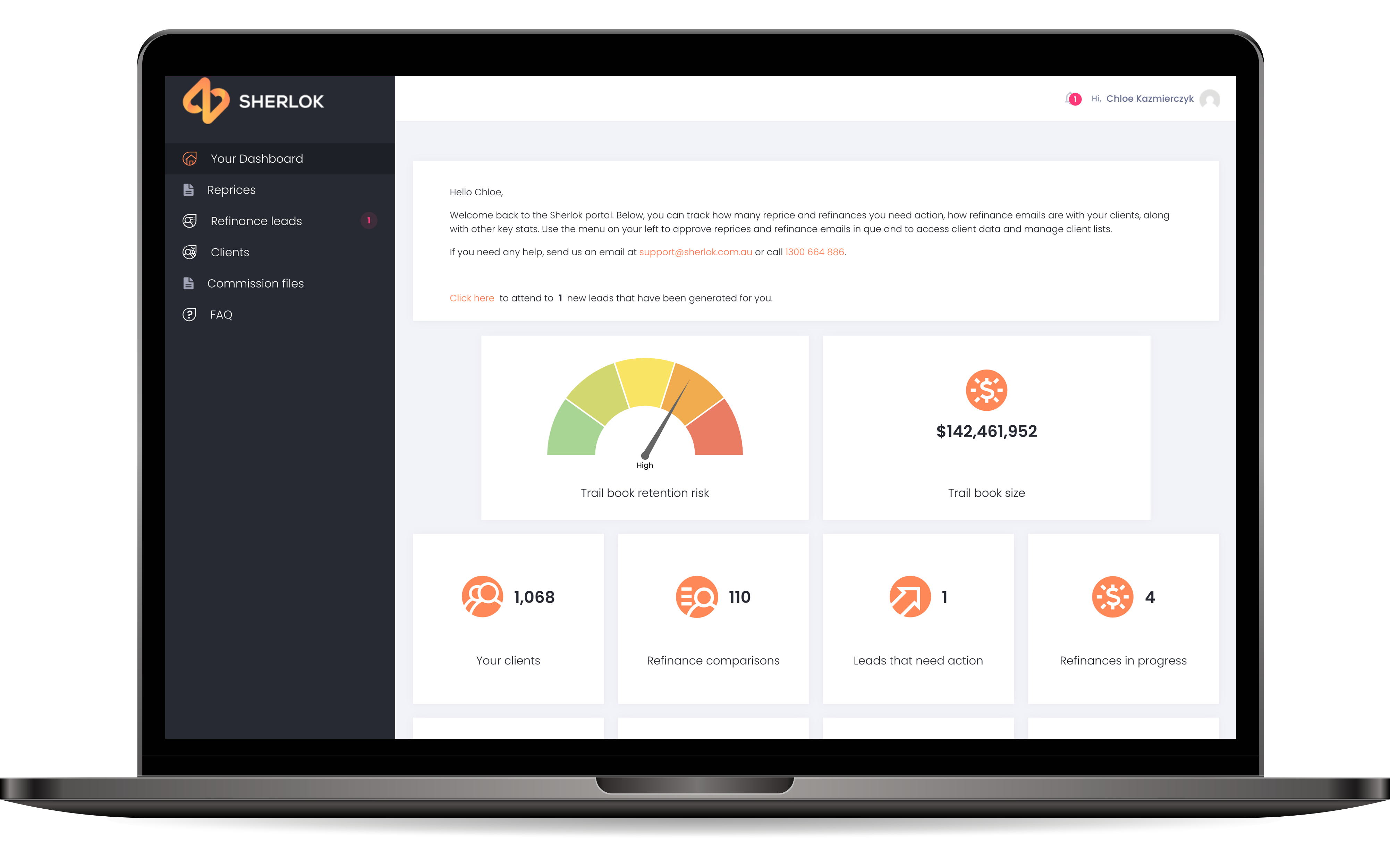 Keep your clients in your book for
the life of their loan.
When you're seeking growth, it can be easy to focus your attention on new leads and forget about the opportunities that could come from servicing your existing clients.
How do mortgage brokers use automated
client retention?

Sherlok's proprietary AI predicts who's likely to refinance from a broker's loan book & tracks interest rates.

Sherlok reprices the loan with the current lender to lower the interest rate.

Sherlok's Instant Refi comparison generates refinance leads for brokers.
Loved by brokers,
here's what they say: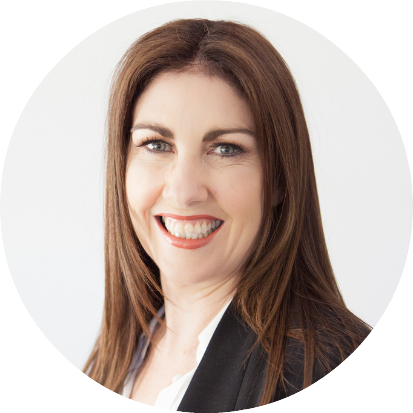 Tracy Kearey
Mortgage Broker
"We've recently started using Sherlok to automate our client retention services. In the past we have paid admin staff full-time to do the work. Those admin staff now have more time to support with new clients. It's been an incredible time saver for us and puts us continually at front of mind with our clients."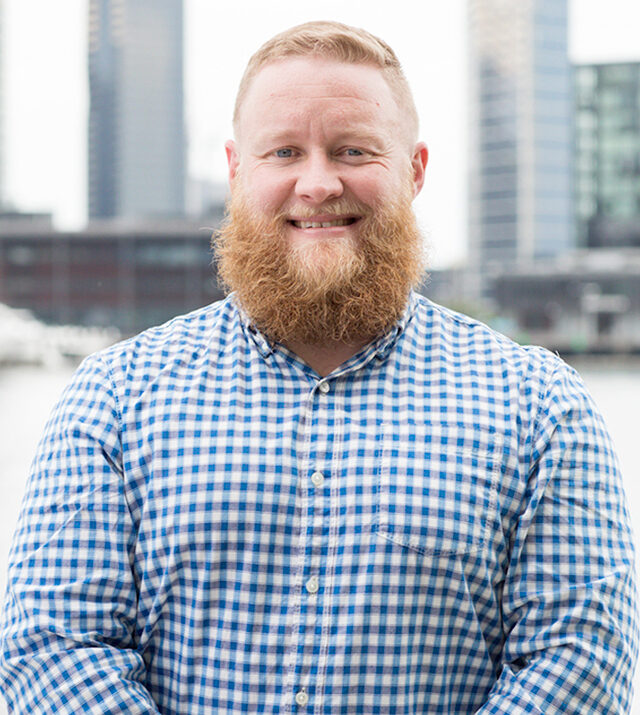 Matt Hale
Mortgage Broker
"With the help of Sherlok we've been able to help reduce clients' home loan repayments by $30k, without anyone having to go through"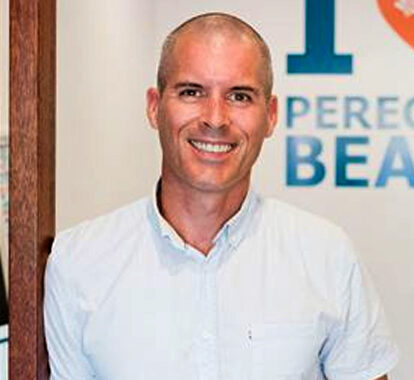 Gordon MacVicar
Mortgage Broker
"We have someone doing our repricing part time. Sherlok has made her role systemised and easier, but most notably it's created opportunity for us to be talking and communicating with more clients. Who doesn't want to hear from their broker when they're saving $4300 in annual interest repayments?"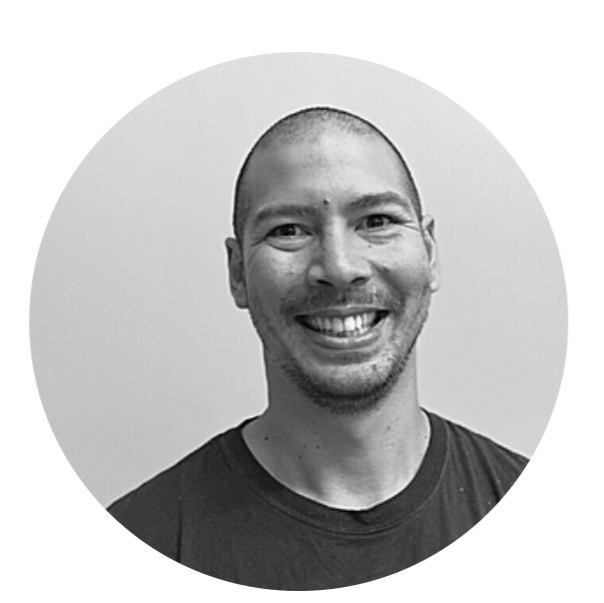 Ollie Lum
Mortgage Broker
"Finally my book can be repriced in seconds! Getting a better rate for my clients with their current lender has never been easier! Gotta love tech!

A win for brokers and a win for clients - WIN WIN WIN!
Once we know what loans are at risk, we'll automatically reprice those loans with the same lender to get a cheaper interest rate who call this the "Sherlok Retention Score".

The Sherlok retention score is similar to a credit score. It's an algorithm that looks at a whole range of different parameters, and then produces a score for each loan in your trail book. The higher the score, the higher the risk of losing that loan. A very high score suggests that the client will leave you in the next 12 months if you don't do anything.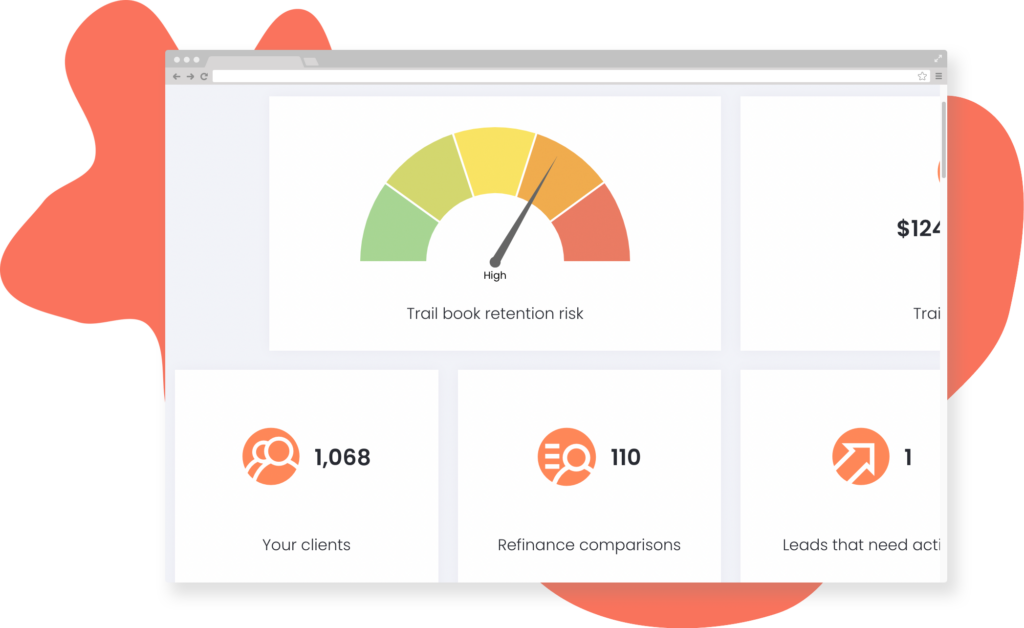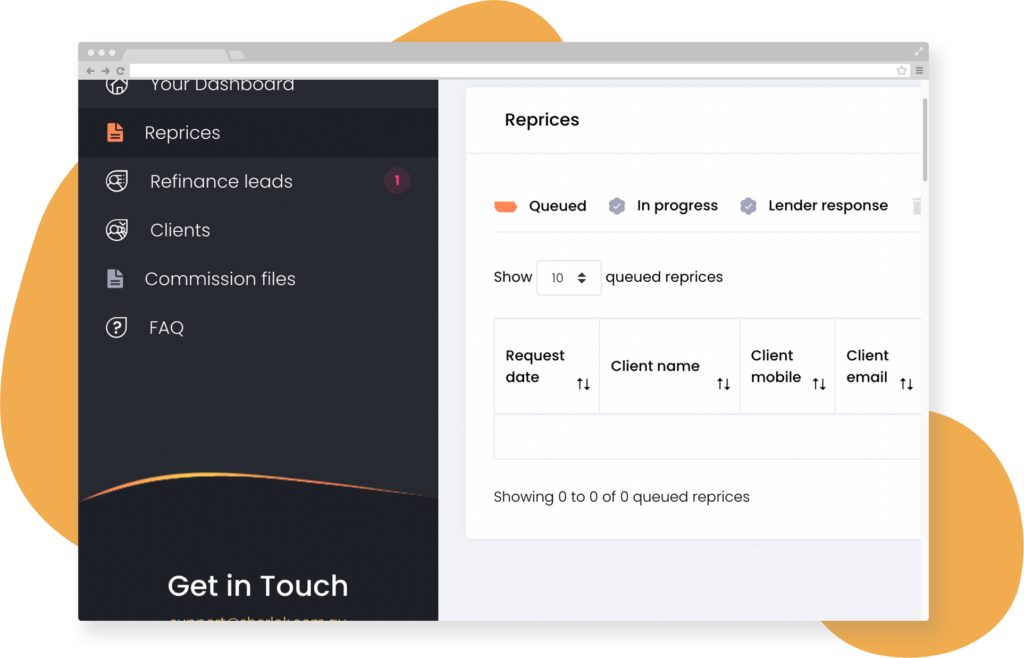 Reprice loans automatically
Sit back and relax as Sherlok analyses your client list. We monitor your clients' interest rates to detect when your clients could be getting a lower rate. 
Keep clients in your loan book
Sherlok compares your clients' rates against other lender rates, identifies valuable refinancing opportunities from your existing trail book, and sends these leads straight to your inbox.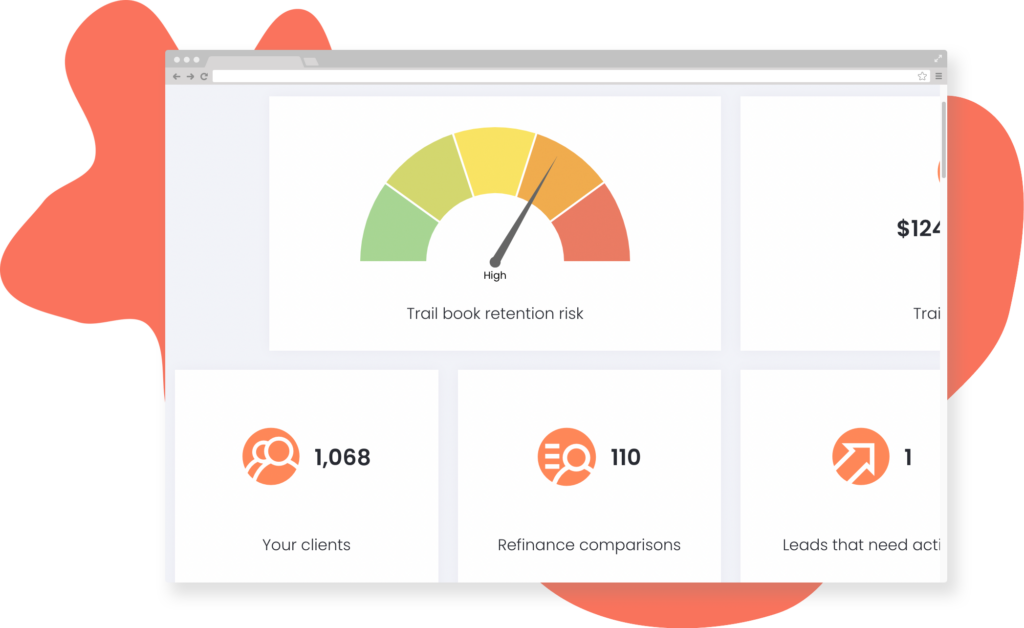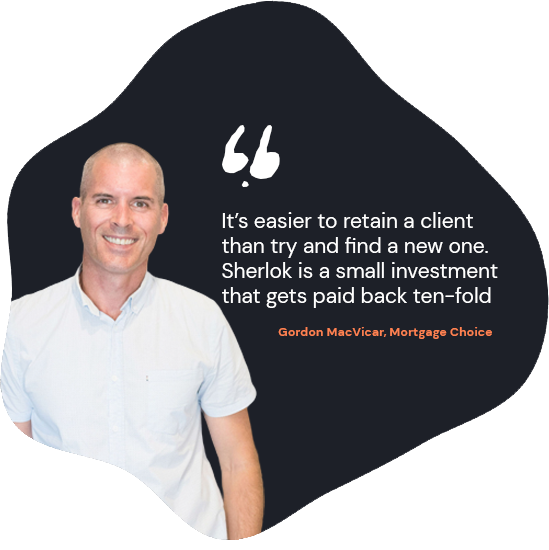 Grow your loan book with your existing clients
It can cost brokers up to 5x more to attract a new client than it does to keep hold of an existing one. You've done all the hard work to attract those clients, the last thing you want to do is lose them by not being top of mind. Proactive automated client retention  is how Sherlok can help you keep them.
Stop losing clients from your back book and experience the power of automated client retention.